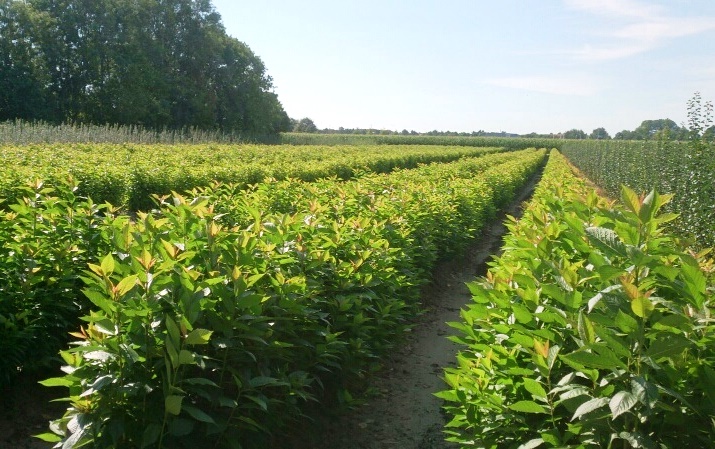 Rootstocks for fruittrees and small fruit plants. We ship small and big parcels Europe wide.
Rootstocks, small fruit and fruittrees.
Rootstocks by Kuiper .  F Kuiper B.V. is a well known fruittree rootstock grower in the Netherlands . We supply rootstocks worldwide .  Quality and reliability are most important for us and our rootstock customers.
Our Nursery is NAK-tuinbouw controlled and inspected every year.
For rootstocks and plants available please press availability list left here.
WELCOME TO Rootstocks by Kuiper
Your rootstocks.....our mission.
F Kuiper B.V.  rootstocks for fruit production is going back a  long time and started in Veendam. Important apple understocks are Malus M9 , Malus M26 and MM106 plus de dwarfing rootstocks M27.
In Cherry the Gisela dwarfing rootstocks and Prunus Colt semi dwarfing are used for fruit production .
Pear stocks are also available for example in Pyrus communes Kirchensaller plus many others from stoolbeds .
Also Quince BA29 and C plus A.    We contract grow for you sleeping eyes or one and two year fruit trees.
F Kuiper B.V. top production of quality rootstocks.
We are certified and NAKB controlled.
Do not know what type of rootstock to choose? The best is aways to ring to find out what roostock to buy. Our rootstock selector is also a great way to get some first idea's … like this one, which is right aligned. Headings are separate blocks as well, which helps with the outline and […]
We at F Kuiper B.V. grow rootstocks and have a long time experience in doing so. There are 3 production types. Fruit tree roostocks from stoolbeds, cuttings, and seedlings. What you are reading now is a text block the most basic block of all. The text block has its own controls to be moved freely […]
At F Kuiper B.V. the growing and handling of rootstocks is inspected all the time by the NAKB organisation. Quality production and quality logistics are of major importance to any tree Nursery . The NAKB membership helps us improving and maintaining the highest quality standards all the time. What you are reading now is a […]